2015年05月29日
The average cost of a UK wedding roughly stands at £21,000 – and as it's your fairytale day, it's natural to want everything to be perfect. This will often mean choosing the more expensive option at each step of the wedding planning, and going well over your budget if you don't hold back.
But never fear, there are ways to cut down. Start by saving and opening a separate wedding account, and be realistic about what you can afford. Hunt for deals and don't be afraid to haggle – you won't know unless you ask.
The experts at Money Advice Service have put together their top practical money-saving tips to help ease the stress of planning a wedding...
photo:sexy evening dresses
Set a budget:
Whether opting for a wedding package or putting the different elements together yourself, the costs can really add up and potentially spiral. It can be easy to justify to yourself spending more than planned because it's a "once in a lifetime" day but like any big event, it's important to make a budget and stick to it. Make a list of everything you need, prioritise where you want to spend your money and shop around. Make sure to factor in the honeymoon too.
Plan ahead:
Leave plenty of time to allow you to search for the best deals and give yourself breathing space to save up for it all.
Open a separate wedding account:
The sooner you start to save, the more manageable the cost will be so think about setting up a separate instant access account. Ideally, set up a regular payment to automatically transfer into the new account which will meet your savings target.
Mix and match:
If necessary, look into borrowing options that could help with some of the cost, alongside your savings. Just remember, whatever you can contribute through saving up will save on interest charges and bring down the total cost of the wedding in the long term. Never to borrow more than you can afford to pay back.
Be realistic about what you can achieve and afford:
Instead of saving tirelessly every month for your wedding in a year's time, why not wait an extra year and you'll only need to save half the amount each month? If you have a year or two to plan ahead, you may want to look at accounts that tie up your money but offer better interest.
Haggle, haggle, haggle:
Whether you're buying a ring or booking a venue, make sure you haggle for the best price – if you don't ask you don't get and receiving 10 per cent off a wedding venue could make a real difference. But make sure you get the offer in writing.
Package holiday honeymoons or DIY:
Package holidays tend to be cheaper, especially for more popular destinations. But either way make sure you shop around, look at the various options and haggle for the best price.
Create a honeymoon fund:
Plenty of wedding guests are unsure about what to give newlyweds so you could create a honeymoon fund they can contribute to.
Share the good news:
Tell your flight provider or hotel that you are honeymooners when you book or check in. You never know, they could have flowers and a bottle of champagne waiting for you on your arrival – or even give you an upgrade!
read more:
plus size prom dresses uk
2015年05月24日
MANILA, Philippines - There's something about a Swatch watch that makes it stand out from other watches. People can quickly identify a Swatch when they see one. Rooted in a culture of outstanding horology, Swatch has always been proud of its artistic Swiss heritage, which ensures that every timepiece is made with a quality that has been forged down through history. All watches are marked with the Swiss Made label, guaranteeing they are built with technical superiority, on top of the aesthetic ingenuity that goes into each design.
Take a look at the brand's latest Swiss Made watches on the upper ground floor of SM Mega Fashion Hall today until June 4 and observe the handiwork put into every piece. The watches are exhibited inside an ultra-cool and interactive gallery. The flooring of this display room is motion-sensored, so a step forward will trigger the flick of a light to shine the spotlight on the latest Swatch collections.
Destination: Switzerland
In line with this, Swatch is celebrating its Swiss heritage, in partnership with the Embassy of Switzerland in the Philippines, by launching the art competition, "Create and Innovate: Essence of Switzerland," giving artists, ages 18 to 30, the chance to see Switzerland for themselves, and be inspired by the country's astonishing views and rich history.
Participants are encouraged to create something new — so start pumping your creative juices, get to the drawing board, and wow us with your cool designs or even innovate on something old; be inspired by an existing idea, and surprise us by reinventing it into something imaginative. Winners of each category, one winner for the Create category and one winner for the Innovate category, will receive a trip to Switzerland for one for five days/four nights, inclusive of a round-trip ticket, hotel accommodations, and pocket money.
Lifestyle Feature ( Article MRec ), pagematch: 1, sectionmatch:Swatch will also be giving a special award to the artist who thinks out-of-the-box and finds a way to integrate Swatch into the artwork. The winner will receive P100,000 in cash. Visit and be inspired by the Swatch's mirror tunnel at SM Mega Fashion Hall.
The competition is also sponsored by Swiss Cultural Fund-Philippines and Etihad Airways. Entry forms with the complete guidelines are available at the Swatch & Swatch Building at 918 Arnaiz Avenue, Makati City
read more:www.marieprom.co.uk/sexy-prom-dresses
www.marieprom.co.uk/red-prom-dresses
2015年05月22日
photo:prom dresses uk
The best of ballet will be on show this Sunday, as Tchaikovsky's score and La Classique come together on stage at Founders Theatre.
La Classique's Sleeping Beauty shows off the beauty and imagination of Russian ballet, and lands in Hamilton on Saturday as part of a national tour.
Established in 1990 by its current director Elik Melikov, with their internationally acclaimed ballet skills, lavish costumes and magnificent stage sets, the illustrious La Classique will take guests on a mystical journey to the fairy-tale world of Princess Aurora, the Sleeping Beauty.
The fairytale involves a princess cursed at birth by a jealous fairy, who is furious about not being invited to the royal christening. The princess is told she will die on her 16th birthday, but a good fairy reduces the curse to 100 years sleep, and eventually the princess is woken by a kiss from a prince.
Ballerina Ekaterina Shalyapina takes the leading role of Princess Aurora, and has also performed in Giselle, The Nutcracker, Romeo and Juliet, Swan Lake and Don Quixote. Shalyapina said Aurora was one of her all-time favourite roles.
An English critic recently described her Aurora as being "like a perfect swan" as she glided around the stage on her 16th birthday attempting to find a handsome suitor.
Melikov has added other fairytale characters, among them Puss in Boots and Little Red Riding Hood, to the supporting cast, offering a lively contrast to the dignified royals.
read more:
cheap evening dresses uk
2015年05月20日
Utah Woolen Mills shows summer fashions for both men and women. They can be found at the City Creek Center in Salt Lake City Utah.
Taylor- Is wearing a lightweight
photo:evening dresses plus size uk
hand made sport coat by Isaia. Isaia is made in Naples Italy and is one of the top menswear brands in the world right now. We are the exclusive retailer of these amazing products. If you ask Taylor what he loves about this jacket, he'll tell you, as anyone else who owns one will tell you it is more like wearing a lightweight shirt rather than a sport coat. The tailors who create these products in Italy have taken all of their tailoring expertise to create a jacket that is as light weight as possible without sacrificing the beautiful fit. Underneath, he is wearing an Eton slim fit dress shirt. These shirts are amazing in many ways, they are 100% organic cotton, but the unique finishing process on these shirts make them easy care, meaning little or no ironing and they never lose their easy care finish. Also, one of the reasons they are so popular is because of the fit, as you can see on Taylor. Taylor's pants are 5 pocket pants by our own brand 59 West. This pant is impressive because it never loses it shape, doesn't wrinkle and is washable. They also stretch, so basically they are perfect! Tyler- is wearing a made for our store of Ermenegildo Fabric. This suit is 100% wool, but contrary to many beliefs, it is light and soft. The beauty about an all wool suit is that they are exceptionally versatile and comfortable
in any weather. The natural fibers of wool actually breath in the warm weather and keep the body temperature at an even temperature regardless of the weather. Tyler is also wearing an Eton shirt. If we can get Tyler to take of the suit jacket and give us a turn, you can see how these shirts fit. I can't tell you how many of these shirts we sell when the wife of a man sees how this shirt flatters her man. The beauty is that this shirt comes in 4 different fits, so we can get this trim look on a super slim guy or a guy who loves to eat. The key is that we have a large inventory and selection and between the 4 fits, we will find one that looks like this on any man that walks in our store. Hilary is wearing a Ted Baker of London Garden Party coat, from the Spring 15 "Pinch Me" Campaign. The large floral pattern is complemented by a pique texture, woven into the fabric. It is finished beautifully with satin lining of the same pattern, in a contrasting pink. Her dress is MaxMara out of Italy. It's fine wool composition & simple lines, insures a year round piece, with timeless beauty. The dress is complimented with the ever popular bow belt, made of the finest Italian leather
. It can be coupled back to denim, jumpsuits and even used on the outside of a wool coat, to finish it off. Jen is wearing pieces from our newest delivery of MaxMara Weekend, which gives you the most sophisticated casual wear possible. With a company
that started in coats, it has become one of the most admired apparel houses in the fashion industry. The blouse and pants are both done in a very light weight breathable linen. Mixing patterns is a great way to show your own individual style, as Jen has, pairing the variegated zigzag pattern of this top and the horizontal stripe of the on trend palazzo pant. Finish the look with a contrasting color belt and a pair of wedges, which will doll up your outfit. You can dress it all the way down, with the very on fleek, branded active shoe. Come in and see what these collections have for you. Remember, you can find your Ted Baker and MaxMara apparel exclusively at Utah Woolen Mills.
read more:
one shoulder prom dresses uk
2015年05月18日
Brian Fleming clearly thought a certain young lady was quite a catch when he spotted her outside a Huddersfield fish shop.
He bought her chips to share and went on to marry her.
photo:cheap evening dresses uk
And he and Burnice are now celebrating their diamond wedding anniversary.
The couple – both from Huddersfield – were married at St Barnabas' Church in Crosland Moor on May 14, 1955.
Kind-hearted neighbours of Mrs Fleming's in Bronte Close defied the horrors of post-war rationing and donated the ingredients for a wedding cake – made by the bride's mother.
"And it was absolutely delicious," said Mrs Fleming, who is 77. "More so as the ingredients had been so generously given."
Brian and Burnice met by a fish and chip shop in Park Road. "I went to the guides at the church school and he would be hanging around outside with his mates," said Mrs Fleming.
"Then he would come and meet me. He was the last of the big spenders, buying six penn'orth of chips for us to share!"
During his working life, Mr Fleming, who is 80, was an engineer with local firms such as Earnshaws, Hopkinsons and David Brown. Mrs Fleming worked in shops, including Marks and Spencer and Woolworths.
Her hobbies have included being a member of St Barnabas Mothers' Union while Mr Fleming has recently retired after 37 years as a second tenor with Colne Valley Male Voice Choir.
The couple, who live in Crosland Moor, have two sons, a daughter, seven grandchildren and four great-grandchildren with another on the way.
Family members from as far afield as Canada attended a celebration party at the Rose and Crown at Cop Hill.
Even as they chalk up the diamond anniversary, Mrs Fleming said: "Marriage is hard work. It's not for the faint-hearted. You have to keep a sense of humour and just love one another
read more:
cocktail prom dresses
2015年05月15日
New York The first time Jenelle Manzi went to CAP Beauty, a natural boutique that opened in February, she found a whole section dedicated to beauty products meant to be ingested.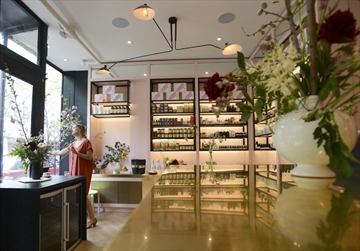 photo:prom dresses liverpool
She took a few home, including Beauty Dust from the Los Angeles company Moon Juice. A powdered herbal blend that includes pearl powder and goji berries, it's meant to promote glowing skin, hair and nails. She started mixing it with hot water that afternoon.
"I've noticed a difference in my skin," said Manzi, 26, who is a dancer with the New York City Ballet. "It's more dewy, brighter. It's completely clear. It's become a huge part of my life."
With the proliferation of juice bars showing no signs of slowing, drinkable beauty products were perhaps the next logical step. They come in liquid form, like the Beauty Bombs line of juices with activated charcoal and clay shots at Juice Generation; and the Beauty Molecule with hyaluronic acid from Fountain.
There are also powdered versions meant to be blended with water or mixed into smoothies, like the Moon Juice line of dusts (besides Beauty, Body and Brain, there is also a Sex Dust), Reserveage Collagen Replenish Powder and the Beauty Chef line from Australia.
In Korea, which many Western consumers and companies are looking to for the next big beauty innovation, beauty drinks are an established part of the market. "There is already this concept ingrained in the culture that beautiful skin is achieved from the inside out," said Alicia Yoon, the founder and chief executive of the Korean beauty retailer Peach and Lily. In Asia, beauty supply stores sell supplements and drinks by well-known brands like Shiseido.
Brandon Truaxe, the founder of Fountain, based in Toronto and London, views beauty drinks as a long-term investment in looking good, which is a bit of a pivot, he said, from the quick fixes the North American beauty customer is accustomed to: "The question has been, 'How do I look better today?'"
At CAP Beauty, where the Beauty Chef Inner Beauty Powder, at $60 for 30 servings, is the No. 1 seller, customers are eager to try beauty elixirs. "It's a new category, but people are receptive," said Kerrilynn Pamer, an owner of the shop. "I say: This is the base, and the skin care products are the frosting. Give it 30 days to see results."
For all that, whether beauty drinks really work depends on whom you ask. "They're no different than taking a multivitamin, but in a nicer bottle," said Dr. Paul A. Offit at Children's Hospital of Philadelphia and the author of "Do You Believe in Magic? Vitamins, Supplements and All Things Natural: A Look Behind the Curtain."
"They appeal to your guilt that you don't have a reasonable diet," Offit said. "Most people don't think they get the vitamins and minerals they need in their diet, but they do."
Jessica Cording, a dietitian in Manhattan, is concerned about promises too good to be true. "Although some of the ingredients in these products have shown some promise in terms of skin health and anti-aging," she said, "there is no evidence that these sorts of supplements work." She added that while they may not do any harm, they are expensive.
"I like to think I'm just a few years ahead of my clients," said Amanda Chantal Bacon, the founder of Moon Juice. Her Dust line, she said, is "addressing the system at a core level rather than a surface."
Expect to see results, Bacon said. "People are finding that, 'Wow, my hair is shinier and fuller, my skin feels more supple,'" she said. "A lot of people get an overall glow."
If you can't put a price on radiance, her Moon dusts are available for $50 and up.
New York Times News Service
read more:
short prom dresses
2015年05月13日
photo:vintage evening dresses
It's just been announced that Rebel Wilson is doing something exciting with clothing. (This time it doesn't involve making a statement about the fashion industry by bending over.)
She helped designed a capsule collection for TORRID called REBEL FOR TORRID, and there will be jackets, dresses, bottoms, accessories, and tops like a Koala print t-shirt because Australia. You'll be able to buy the clothes (25 pieces priced from $28.50 to $125) in November, just in time for the season of giving to yourself. A Rebel Spring 2016 collection is also in the works, and the brand has always been dedicated exclusively to sizes 12 to 28.
Rebel describes it as "dope." Will she ever stop doing lovable stuff?
I've had a 'torrid' affair with buying clothes all my life. I've never really felt like there's a brand out there in the plus size world that is creating cool stuff, that fits well and is good quality yet affordable. It's really only been in the last few years that I've seen companies try. So it was awesome to team with Torrid, who I think are doing such a great job in making plus size fashion relevant and dope. I've been loving designing the clothes for my capsule collection. I've been putting my unique style and personal loves into the clothing and literally can't wait for the collection to launch!
Liz Munoz, Torrid SVP of Design says the denim component will be particularly dope. "Rebel's got a natural instinct for design. She's been totally hands-on throughout the process. She cares about every detail, down to the diamanté rivet on the jeans. We love the results… she crushed it."
We're hoping this turns out awesome, but like a Craigslist ad for a pristine laundry hamper, we won't know until see we see some photos. It's still excellent news though. Hopefully Rebel will lend TORRID some of her rebellious whimsy.
read more:
long prom dresses
2015年05月11日
Catherine Claire Fontenot and Joshua Taylor Franks were united in the Sacrament of Holy Matrimony on Friday May 8, 2015 at half past six o'clock in the evening at St. Charles Borromeo Catholic Church in Grand Coteau, Louisiana. The nuptial Mass was celebrated by Father Gary Schexnayder.
photo:www.marieprom.co.uk/plus-size-prom-dresses
The bride is the daughter of Mr. and Mrs. Richard Glenn Fontenot of Youngsville, Louisiana. Mrs. Fontenot is the former Sharon Catherine Billodeaux of Jennings, Louisiana. Catherine is a 1999 graduate of St. Thomas More Catholic High School, and a graduate of the University of Louisiana at Lafayette, where she earned a Bachelor of Fine Arts in Visual Arts in 2003 and a Bachelor of Arts in Modern Languages with a concentration in French in 2011.
The groom is the son of Mr. and Mrs. Larry Wade Franks of Lafayette, Louisiana. Mrs. Franks is the former Vickie Denise Saulsbury of Bunkie, Louisiana. Joshua is the grandson of Mr. and Mrs. James Turner of evergreen, Louisiana, Mr. and Mrs. Jesse Saulsbury of San Angelo, Texas and Ms. Audie Radford, wife of the late Mr. Charles Radford of Gardener, Louisiana and the late Mr. Lawrence Franks of Bunkie, Louisiana. Joshua is a 2001 graduate of Westminster Christian Academy, a 2005 graduate of Louisiana State University at Eunice with an Associate Degree in Business Administration, a 2007 graduate of the University of Arkansas at Monticello with a Bachelor Degree in Business Administration, and a graduate of the University of Louisiana where he earned a Bachelor of Science in Architecture in 2012 and a Master of Architecture in 2014.
The bride was given in marriage by her parents and escorted by her father. She wore a vintage style gown by Maggie Sottero of soft ivory tulle over mocha satin. An illusion V front and deep V back neckline enhance the romance of her dress. Bold floral lace appliqués embellish the fitted bodice and cascade down the tulle overlaid floor length skirt.The closure at the back of the dress features covered buttons which finish in a soft train. The bride wore her mother's cathedral length veil attached to a lace covered Juliet cap. She carried a cascading bouquet of artfully arranged white peonies, quick sand roses, sweet peas, lambs ear, eucalyptus, and foliage. Attached to the bouquet was her maternal grandmother's rosary.
The Bride's matron of honor was Marisa Kempf Courville, friend of the bride. Her maid of honor was Emily Heyman, friend of the bride. The bridesmaids were Elise Cazes, cousin of the bride; Lauren Billodeaux, cousin of the bride; Carly Alexander, Laura Capell, Dr. Laura Atran-Fresco, and Jacqueline Renner, friends of the bride. They wore midnight navy floor length dresses with full skirts and a draped bodice of their choice. They carried bouquets of pale peach and cream flowers and foliage which complimented the bride's bouquet.
Bryce Lyons, friend of the groom served as best man. Groomsmen were Ross Fontenot, brother of the bride, Haley Hougen, Charlie Snodgrass , Ian Renoux, Morgan Goudeau, Guy Dugas, and Joey Courville, friends of the groom.
Attending the bride as flower girl was Ava Catherine Johnson, niece of the groom. Rayo John Courville, son of the matron of honor and groomsman Joey Courville, served as ring bearer.
Lectors for the ceremony were Sandra Launey, godmother and aunt of the bride, and Jessica Johnson, sister of the groom. Offertory gifts were presented by Sonny Launey, uncle of the bride, and Christopher Launey, cousin of the bride.
Ceremony music was provided by Willfred Green, trumpeter; Xiao Lu Li, violinist; Jodi Bollich, vocalist; and Linda Kidd, organist.
A reception was held following the ceremony at the Petroleum Club in Lafayette, Louisiana with dancing to the music of Jet Seven. The couple departed for a honeymoon in Whitehouse, Jamaica and upon their return plan to live in Lafayette, Louisiana.
Thursday a bridesmaid's luncheon was given by the bride's family which took place at The French Press. A rehearsal supper was hosted by the groom's parents on Thursday evening at Catahoula's in Grand Coteau, Louisiana.
read more:
www.marieprom.co.uk/vintage-prom-dresses
2015年05月07日
photo:cheap prom dresses
Marla Klein is a 16-year-old girl at the top of the world. She's a member of the Superior Court at one of the top five fashion houses, and she has the power to set the latest fashion trends with just a nod of her head. But when her choices start going against the grain, she ends up at the bottom of the food chain with no hope to regain her former position.
Ivy Wilde, on the other hand, lives a glamorous life as the biggest female pop star of her time. She sets trends by wearing a style just once and never has to worry about price tags. But behind the scenes, her life is dictated by everyone but herself. The gimmicks she has to endure to keep her name in the spotlight are beginning to rub her the wrong way.
When Marla and Ivy's paths cross, something wonderful happens. Suddenly, they're leading their own lives and making serious changes in society. But will society accept those changes? And will the people in charge of their lives allow them to continue their independent streak?
At first glance, Material Girls may seem like nothing more than what is on the surface — a book about fashion and pop culture. However, these two elements simply provide an avenue for the author to talk about larger topics, such as environmental conservation and the ethical treatment of workers.
We find characters all across the spectrum in Material Girls. Some of them are desperate to fit in, regardless of their working conditions. Staying fashionable is the most important thing in their life, and they will do anything to maintain their look. On the other hand, there are extremists who would like nothing more than seeing the industry meet its permanent end. In the middle, there are people like Marla who recognize the frailty of fashion trends, but don't know what to do about it.
This book is certainly for fashion lovers. It explores the many different stages a garment goes through in order to make it from a drafter's table and into your closet. While non-fashion lovers can still enjoy the story, they may get lost in some of the details.
The other side of the story shows an extreme view of a pop star's life. With a whole image created for the sole purpose of attaining stardom, and a personality developed to match, we get a glimpse into the life of someone who has everything and yet nothing at all.
As with any dystopian story, this tale takes place in world not our own, but in one that may not be as far-fetched as we'd like to believe.
read more:
prom dresses london
2015年05月05日
photo:graduation dresses uk
Dick Grayson proposed to his long-time girlfriend Barbara Gordon in last month'sConvergence: Nightwing/Oracle #1, and while the cover of this week's second issue suggests that the two lovers will finally tie the knot, there are a few hurdles to jump on the way to the altar. First, Barbara turned down Dick's proposal. Second, the bloodthirsty Hawkman and Hawkwoman of the Flashpoint alternate reality are attacking Gotham City. In this issue, Nightwing is on the front lines fighting the Hawks while Oracle is tackling a technological threat from behind a keyboard, a situation that should delight readers that lamented the changes made to these characters in the New 52.
Writer Gail Simone has spearheaded Barbara Gordon's story for most of the last decade, and this miniseries feels like the end of the narrative Simone was building before the New 52 took Barbara out of her wheelchair and back in her Batgirl costume. With Simone shifting focus away from superhero comics, it's uncertain if she'll ever return to Barbara, but if this is her last story with the character, at least it's with the version she writes best. Oracle may be in a wheelchair, but that doesn't diminish her strength and determination, traits artist Jan Duursema captures with an intense shot of Barbara pulling her hair back before she gets to work. It's not the typical depiction of superhero power, but that's what make Barbara Gordon as Oracle so captivating.
read more:
www.marieprom.co.uk/cheap-prom-dresses