2016年12月28日
With so many red carpets and major events this year, we were overwhelmed with hair and makeup looks to love. From Bella Hadid's glitter lips on the runway to Taylor Swift's blunt bob and signature red lips, see our top 10 picks for the best beauty moments of 2016.
We're diving right into all of our favorite beauty moments from 2016, reliving the hair and makeup looks we've bookmarked to try out for ourselves. Taking a look at the classic beauty looks, Selena Gomez most recently topped our list when she attended the 2016 AMAs looking like an actual princess. Not only was she wearing the red Prada ball gown of our dreams, but Sel's low ponytail hairstyle and smokey eye and nude lip makeup combo made the whole look seem as though it were straight out of a fairy tale.
pics;purple prom dress
Meanwhile, Sel's BFF Taylor Swift made our list for her Grammys beauty look, which she sported just after the year's start. Though she would experiment with many hair and makeup makeovers throughout the year, this classic TSwift look included a blunt honey blonde bob with bangs and bold red lip.
Kim Kardashian is usually all about the heavy contoured makeup and tousled waves. But in 2016, she strayed from her signature look (and made our best beauty list) when she attended Paris Fashion Week with long, straight hair that was parted down the middle and hardly a drop of makeup courtesy of her glam squad Chris Appleton and Mario Dedivanovic.
Likewise, Zendaya is known for being a chameleon when it comes to her beauty looks. And while she sported a number of wigs and natural hairstyles throughout the year paired with various bold lips and dramatic eyes, we loved her fresh tousled lob and classic neutral smokey eye from New York Fashion Week best.
Adding a fresh, modern take to her elegant beauty look was Jennifer Lawrence, who delivered on the beauty inspo during all of her red carpet events in 2016. For the Britannia Awards, she added a braided twist to her low knot and paired a frosted nude lip with her subtle black eyeliner and soft brown eyeshadow.
Then, there were the beauty risk-takers, whose looks ranged from braids and wet hair to full-on unicorn makeup. Earning extra points for being the boldest look all year was Gigi Hadid, who rocked a diffused rainbow eye that makeup artist Erin Parsons created using shimmering blue, pink and purple colors. Shooting for a campaign with Maybelline, Gigi added holographic touches to her cheekbones and cupid's bow and a wet finish hairstyle for the coolest beauty look of the year.
Channeling her bestie was Kendall Jenner, who looked every bit the high-fashion model when she attended the Cannes Film Festival with wet hair, a dramatic smokey eye and a nude lip.
Rounding out the model looks was Bella Hadid, whose vampy glitter lips had us convinced this was a trend we needed to try. Thanks to makeup artist Pat McGrath, Bella wore the mesmerizing look twice — in a wine color for DKNY at New York Fashion Week and a ruby red hue for Versace's Paris Fashion Week show.
Going just as vampy with the lip but sans the glitter was Lucy Hale, who wore the most perfect wine shade with her new blonde lob at a Pretty Little Liars series finale celebration. And last but not least, Margot Robbie tried out nearly every braid imaginable in 2016, sporting the most inventive twisted low braid of the year thanks to Sarah Potempa.
HollywoodLifers, who had your favorite beauty moment of the year? Vote for your top pick, or let us know in the comments below if you loved another look best!
Read more:yellow prom dresses
2016年12月27日
For months, the family of Kristi Price Maxwell has remained quiet while authorities investigated her death.
That investigation is now closed and her death has been labeled "inconclusive." But hints from the autopsy are enough to convince family members that she was murdered.
And now they want to clear her name.
Read more:evening dresses uk
"I think that mostly we want people to not be under the assumption that she took her own life or died of a drug overdose. She didn't die of natural causes. She was young, she was healthy, she was vibrant. She was a person who should be alive with us today and she was taken viciously," said Colleen Davis, Maxwell's sister.
"Kristi lost her life and her voice on July 17 and we, her family, have been the only ones to be her voice of what happened to her and it is important for people to know."
July 17
Maxwell, 47, was found dead in her Orangeville home. Tension between her and her husband, Richard Maxwell, 55, had been growing and family members say she was preparing to leave him. On July 17, when family members hadn't heard from her all day, they called Emery County sheriff's deputies to conduct a welfare check.
When they arrived, they found toothpicks jammed into the keyholes of the doors, Davis said. After they were able to get inside, they found Richard Maxwell holding a gun under his chin, according to a search warrant. As a deputy yelled to the family to get out, a gunshot was heard. Backup was called and Richard Maxwell was taken to a hospital to be treated for a self-inflicted gunshot wound to his chest.
Kristi Maxwell's body was discovered in a bedroom. Investigators told the family she had been dead for 12 to 18 hours.
But the initial autopsy report from the Utah State Medical Examiner's Office was inconclusive pending the outcome of toxicology tests. Because of that, deputies did not arrest Richard Maxwell.
A couple of days after being released from the hospital, Maxwell shot and killed himself on Aug. 8.
The family says the final medical examiner's report was completed last month. And it too was inconclusive about Kristi Maxwell's death.
"Manner of death: could not be determined. Immediate cause of death: Undetermined causes," the autopsy states.
But, the report also stops just short of officially declaring Maxwell's death a homicide.
"The positioning of the body and events during the welfare check are strongly suggestive that a homicidal act had taken place," the report states.
None of the injuries found on Maxwell's body would have been life threatening, according to the report. But the autopsy also noted: "An asphyxial event, such as smothering, cannot be totally excluded as causing this death."
Maxwell's family believes she was smothered to death.
Furthermore, the toxicology test came back as negative, meaning there were no traceable amounts of drugs in her system.
For the family of Kristi Maxwell, they hope the autopsy report will now put an end to months of speculation by Emery County residents about what happened, and that the family can finally start the process of healing.
"In honesty, there will never be a complete closure. But I think with what we have … will come as close to getting a closure as we'd hope to expect," Don Price, Kristi Maxwell's father, said of the medical examiner's report. "We can stop picking at this scab now and let it heal."
Fighting rumors
In the small town of Orangeville, located outside of Price, rumors began to spread almost immediately after the woman's death, according to family members.
"And that happened in this case very quickly. And it went everywhere from she was shot, to suicide, to murder, to drugs, to whatever. And it was never really cleared up by the authorities," said James Davis, Colleen Davis' husband. "In that small of a community, things never end, it continues to simmer."
Both the Emery County attorney and sheriff's offices initially declined to release information about Maxwell's death. By not releasing a statement, the family believes the rumors were allowed to continue.
"The community down there is divided in their opinions. There's those that believe that Kristi was murdered. Then there are those who believe that she had to have died of natural causes or suicide or overdose or something like that because Max couldn't have done anything like that," said Colleen Davis.
Karen Ward, another sister of Kristi Maxwell, said she still has people on a regular basis come up to her and say things like, "Oh, I guess we'll never know."
"We basically do know," Davis said. "We've known all along. The family has known all along."
"And the medical examiner has pretty much proven it," Ward added.
The medical examiner's report states that Maxwell's pants and underwear had been cut and her shirt pulled up when her body was found. She had small scrapes on her upper lip and nose and several on her right arm, including a "puncture injury" on her right forearm. There was also bruising on the top of her head.
The family says they were also told that hair was found in her hand. They believe the wounds show that she "fought for her life."
"She fought tremendously to live, and he killed her anyway," said Janice Price, Kristi Maxwell's mother. "Things that we had no idea happened to her, we read in the medical examiner's report. We want her name cleared."
Maxwell also had a history of aneurysms, but the report indicates that none were found during the autopsy.
'The most giving, loving person'
The family hopes their months of frustration can now be put to rest and they can concentrate on remembering their loved one.
At Davis' house in Spanish Fork, nearly 20 stockings were hung near a Christmas tree with the names of all the siblings, children and grandchildren. Davis recalled her sister's extremely giving nature.
"Kristi was like the most giving, loving person," she said.
Maxwell used to own a bridal boutique in Casper, Wyoming. When it closed, she brought all her evening dresses
and materials to her house in Orangeville. Davis said she would often help women and girls who needed a wedding or prom dress but couldn't afford one, handing out $1,500 dresses whether they were rich or poor and treating them like "princesses."
"She would take them into her house and let them try them on with her three-way mirrors," Davis recalled. "She said every woman deserved to have their day and pick their dress."
"She was always cheerful and upbeat — always. And always had a smile, even though it was forced, she always smiled," Don Price said.
2016年12月26日
Slit kurtas, capes and asymmetric hemlines will make a flattering trend in 2017, says an expert who feels that ethnic wear will get a makeover in the coming season when stylised differently.
Pankaj Anand, Director and Co-Founder at Sabhyata, an ethnic clothing brand, has listed the top trends for you to watch out for: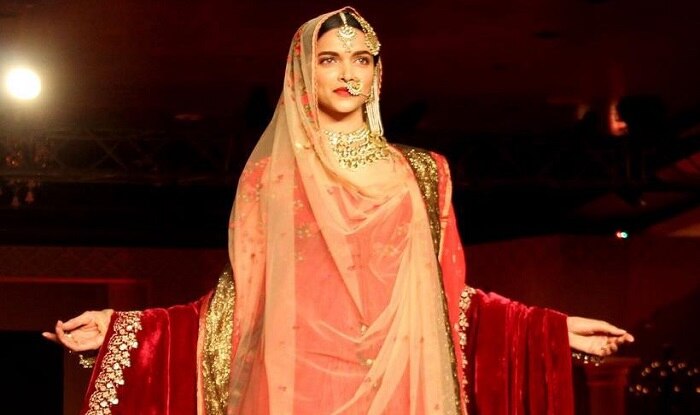 pics:formal dresses
Slits
Extended slits are all set to make ethnic wear newer and modern. Adding to this, chic designs merged with the bold slits are taking fashion one step further. Slit kurta is a bold choice for women and is the right combination of modern, edgy, regal and traditional fashion. ALSO READ: Diwali 2016 fashion trends: Deepika Padukone, Kangana Ranaut & Sania Mirza give us brand new fashion goals this festive season!
Slit Kurtis incorporating geometric patterns are much in vogue. You can give these a contemporary twist by teaming them up with bottoms such as trousers, a pair of jeans palazzos and even with churidars and leggings.
Capes
This style is now making its way in Indian ethnic fashion. Easy to wear, Capes can be embraced by every body type. Opt for a simple kurti and a fancy cape to clad in an uber cool indo-ethnic look.
Asymmetric hem
Asymmetric patterns with distinctive cuts have recently become a personal favourite of designers with more and more upcoming artists embracing this style in their new collections. You can team asymmetric kurtis with Patiala, leggings and palazzos for some trendy style. ALSO READ: Winter fashion 2016 India trends: Alia Bhatt, Kangana Ranaut and Sonam Kapoor are giving us some serious winter fashion goals
High neck and collar
Kurtis with high neck and collar add a formal touch to the attire. You can flaunt this gorgeous style at corporate meetings, conferences as well as at casual gatherings.
If you desire for unconventional appeal you can try out high neck kurti with retro prints, hardcore geometrical influences and rough edged silhouettes and make heads turn.
Light fabrics
Fabrics play a crucial role to define trends in ethnic fashion. With extensive amalgamation of modern silhouettes with the traditional handloom, feminine designs along with light fabrics will be on trend this year. You can expect cotton, chiffon and silk with captivating patterns and playful prints.
Read more:evening dresses uk
2016年12月16日
Starting next season, Major League Baseball will tighten the reins on team hazing by banning the practice of forcing rookies to wear drag.
On Tuesday, MLB announced a policy targeted at ending the tradition of veteran players forcing rookies to prom dresses london as women. The new regulation bans "requiring, coercing or encouraging" new players from "wearing costumes that may be offensive to individuals based on their race, sex, nationality, age, sexual orientation, gender identify or other characteristic."
Andrew Savulich/NY Daily News Archive/GettyRookies wearing outlandish costumes in public has long been a hallmark of in the MLB. Newbies will often arrive to practice to find cheerleader uniforms or leotards waiting for them, which they then don to pick up coffee for teammates.
Though the ritual has been going on for years, it's received renewed scrutiny in the age of social media, which has "unfortunately publicized a lot of the dressing up of the players," said MLB vice president Paul Misfud.
"Those kind of things which in our view were insensitive and potentially offensive to a number of groups [have been banned]," Misfud told AP. "There's lots of pictures of baseball players dressed up as Disney princesses."
While some players say the tradition makes them feel "like one of the guys," as former Yankees pitcher Joe Kennedy put it in 2007, a number of players and LGBT organizations have come out against the practice.
"Requiring rookies to dress in feminine presenting clothing like wigs, dresses, and bikinis sends a strong and dangerous message that being a girl, woman or feminine is somehow less than, and something to be mocked," said Hudson Taylor, head of Athlete Ally .
"Regardless of intent, as long as professional athletes participate in hazing of this kind, they will be continuing to perpetuate a culture that isolates, excludes, and marginalizes the experiences of lesbian, gay, bisexual, transgender and female athletes."
The new policy doesn't ban all forms of hazing, which MLB still regards as a component of team bonding. Instead of Disney princesses or Hooters girls, though, teams will be encouraged to prom dresses liverpool up their newbies in neutral costumes, such as superheroes or giant condiment bottles.
The prohibition will apply even if rookies want to participate in the cross-dressing ritual: "A player's actual or perceived willingness to participate in prohibited conduct, does not excuse the activity from being considered a violation of the policy."
"Times have changed," MLB union attorney Dave Prouty said. "There's a certain conduct we have to be conscious of."
2016年12月15日
"Heartland" Season 10 Episode 9 went on a midseason break last week which showed Ty (Graham Wardle) and Bob (Roger LeBlanc) hunt for killers of Gobi bears in Mongolia. It also touched a bit on the evolution of Ty who is about to get married to Amy (Amber Marshall).
photos:prom dresses liverpool
However, spoilers for "Heartland" Season 10 Episode 10, titled "All I Need Is You," say that with the fast approach of her wedding day, to avoid the pre-wedding jitters, Amy goes into gentling a rescue horse. In turn, Ty is arrested which would place in peril their future as a couple, according to UpTV.
Rerun Of Episode 9
A CBC blog says that viewers of the Canadian adventure-drama series who missed Episode 9 could view it because the station would rerun "Heartland" Season 10 Episode 9 on Jan. 8 as part of CBC's yearend break from regular programming. Viewing the previous episode would refresh the memory of fans of the series and prepare them for the resumption of regular programming on Jan. 15, 2017 for the airing of "Heartland" Season 10 Episode 10.
Meanwhile, the CBC series would soon be available to parts of the U.S. starting next week from Episode 1 until "Heartland" Season 10 Episode 10. A new network would air the series, five episodes a week, to be broadcast in New York, Los Angeles; Chicago; Philadelphia; Dallas; Houston; San Francisco; Washington; Atlanta; Phoenix; Detroit; Minneapolis; Orlando, Florida; and Charlotte, North Carolina. These cities account for about 37 percent of the U.S. population.
Taping for "Heartland" Season 10 Episode 10 wrapped up on Tuesday. The following day, the cast and crew held a wrap party in downtown Calgary as a way to celebrate and take a break from eight months of production work for half of Season 10.
Read more:short prom dresses
2016年12月14日
If there's one thing you want to wear for a holiday soiree or a New Year's Eve party, it's a fun sequined cocktail long prom dresses
, am I right? However these dresses can often be hard to wash and clean, especially if you get a not-so-fun stain on them. Knowing how to clean sequined clothing can definitely decrease your trips to the dry cleaner and of course, save you time and money.
Even though some think you can't wear sequins all year round, they are definitely acceptable during the holidays. A little sparkle never hurt no one, so it's imperative you ensure your dresses (that probably aren't cheap) stay in tact and last you year after year. Whether your dresses are beaded or sequined, it's often easier to hand wash theminstead of making several expensive trips to the dry cleaner. And if you spill something on your dress, it's best to make sure to treat the spot first without rubbing it more into the fabric and beading.
If it's a sweater or a dress embellished with elaborate sequins or beading, there are several ways to minimize harm while washing. Here are the some of the most important tips and tricks to making sure your sequined dresses stay shiny and fresh:
1. Treat Spots First
Don't even think about throwing an embellished dress in the washer! First spot clean the area that needs treatment with a spot cleaner or a little mild detergent. One of the most important things to remember is to dab, not rub. You can even make your own homemade stain remover with lemon essential oil, baking soda, and vegetable glycerin that would is definitely less harsh on the garment.
2. Gently Hand Wash
Never wash an embellished garment in the washing machine, even if you think the delicate cycle will work best. It's easier and simpler to hand wash the garment in cold water, according to this YouTube tutorial that helps you learn how to hand-wash delicates.
3. Turn The Dress Inside Out
Before you hand wash your delicate item, make sure to turn it inside out so that you are washing the actual fabric of the dress instead of just the sequins or beading. This also helps avoiding damaging the sequins that sometimes may bend or tear while even hand washing. To make sure any lingering stench is out of your garment, using cleaning vinegar will help get rid of any odors.
4. Use Mild Detergents
Sometimes your everyday detergent will be too harsh for the material and sequins of your garment. Just how you would clean a satin fabric, it is best to use a more mild detergent and cold water to help protect the fabric while still cleaning it.
5. Never Rub Stains
Your motto for treating sequined items should be to dab not rub the spot that needs treatment. If you rub on the stain, it may cause the beaded pattern to tear or loosen. Instead, delicately sail the garment in detergent-filled water, and afterward use a wash cloth to dab the stained area.
6. Don't Wring Out Water
Your first instinct might be to wring out your dress like you are hand washing any other piece of clothing. Instead of wringing out your embellished item, let your garment drip dry for enough time to get the excess water off before hanging or laying flat to dry.
7. Lay Flat To Dry
Avoiding the washer and dryer for embellished items is best. So in order for your garment to dry, make sure to lay your long prom dresses uk flat to dry. Laying it over a towel may even soak up some of the excess water.
2016年12月13日
Lyst is waging a trademark battle against Lystable, an online service aimed at "helping teams manage their freelancers with ease." The fashion site, "one of the world's leading e-commerce marketplaces for fashion and fashion accessories," filed suit against the like-named site this past week in the U.S. District Court for the Southern District of New York, alleging that Lystable is infringing its federally registered trademark.
According to London-based Lyst's complaint, it began using its "Lyst" trademark in 2010 in connection with its "software platform that digitally hosts, promotes and markets millions of products that are aggregated from Lyst's business partners, who include some of the world's best known fashion brands and retailers, such as Paul Smith, Ralph Lauren, Barneys New York, J. Crew, Burberry, Harrods, Valentino, Alexander Wang, Selfridges, ASOS, and Farfetch." In short: Lyst partners with well-known brands and introduces a personal shopping element to online shopping.
photos:prom dresses liverpool
In particular, Lyst alleges that it maintains federal trademark rights in the classes of goods and services that extend to: "computer application software," "operating online marketplaces for sellers and buyers of goods," and "hosting of digital content on the Internet."
Enter: Lystable. The San Francisco-based technology company, which launched roughly six months ago, "digitally hosts data and provides a software platform to allow its customers to organize and interact with freelancers and external vendors," per Lyst's complaint, and only "began using the 'Lystable' name in the United States less than three months ago."
While not necessarily in the fashion sphere, Lyst claims that Lystable is infringing its inherently distinctive mark as Lystable's mark "is substantially identical to the [Lyst trademark] from a visual, aural and conceptual perspective. Further, [Lystable] provides services that are substantially identical to, and in direct competition with, the services provided by Lyst."
In addition to confusion that may be caused by the obvious name-specific similarities, Lyst alleges that "this confusion is compounded by the fact that both businesses are data-driven, technology companies whose software platforms share similar functionality." Moreover, Lyst states that confusion stems from the fact that both companies "target the same pool of investors and funds looking to invest in fast-growing technology companies, compete to hire software engineering talent in the same recruitment sphere, and seek to be nominated for and win awards from the same technology start-up industry bodies."
Consumer Confusion: A Core Tennant
As the legally minded amongst us will know, the critical inquiry in a trademark infringement matter is whether the defendant's use of the trademark at issue (to identify goods or services) causes a likelihood of confusion among consumers. In other words, will consumers think that the defendant's goods/services are affiliated with, connected to or association with the plaintiff, or that the plaintiff has sponsored or approved of the defendant's goods?
Given that trademark law protects a trademark owner's exclusive right to use a trademark when use of the mark by another would be likely to cause consumer confusion as to the source or origin of goods, a finding of a likelihood of confusion will enable a plaintiff to prevail in his case (assuming that he establishes that he has a valid mark entitled to protection; and that the defendant has used the same or a similar mark in commerce in connection with the sale or advertising of goods or services without his consent).
In asserting that consumer confusion "is all but assured" in the case at hand, Lyst stated that "actual confusion has already begun. For instance, Lyst's head of talent recently received a message from a recruiter who believed, mistakenly, that Lystable was a spinoff of Lyst. Similarly, one of the investors in Lyst had a conversation with another investor who confused Lystable with Lyst."
As a result, Lyst has asked to the court to preliminarily and permanently enjoin (aka: prevent) Lystable from using the "Lystable" mark and/or "injuring Lyst's business reputation and the goodwill associated with its Lyst trademark and from otherwise unfairly competing, directly or indirectly, with Lyst, its affiliates, or subsidiaries." Moreover, Lyst is seeking a yet-to-be specified amount of monetary damages in connection with Lystable's alleged infringement of its trademark.
Essentially, Lyst wants to the court to order Lystable to change its name and to pay Lyst damages for using the name in the first place. Stay tuned!
Read more:prom dresses london
2016年12月12日
Mary Zophres' official "La La Land" credit might list her as a costume designer, but anyone who's seen the modern-day romantic musical knows that's almost an understatement.
More accurate? Perhaps, choreographer of color.
Because when your director -- in this case, "Whiplash" director Damien Chazelle -- sets out to make a movie that pays tribute to the technicolor films of the late '40s and early '50s, the task of creating clothing to achieve the vision becomes something akin to a complicated dance.
"We talked about where we would place color and in which scenes and we really worked very closely," Zophres told CNN at the "La La Land" Los Angeles premiere. "I also worked very closely with the production designer and we almost choreographed where we would use color and how."
In one scene, Emma Stone's Mia -- an actress who falls for Ryan Gosling's Sebastian -- wears a rich royal blue prom dresses london, as she and three roommates dance in a desolate residential street at dusk. The blue pops against the sporadically lit streets. Mia's friends all wear colors that compliment -- but don't overshadow -- her.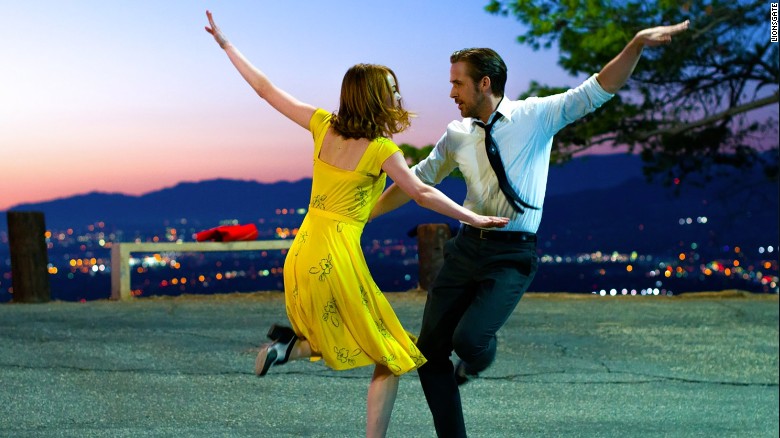 In another scene, the one depicted in the movie's whimsical poster, Mia wears a canary yellow dress with hand-painted pattern detail as she and Sebastian dance with a purple and blue Los Angeles sky as their backdrop. Again, the whole setting is visual candy -- sweet and appealing.
The clothing had to compliment and enhance the locations and story and even the emotional tone of the characters.
"It was really a vision of Damien's that he sort of brought us into and let us come along for the ride," Zophres said. Like the movie itself, the fashions, ebb and flow.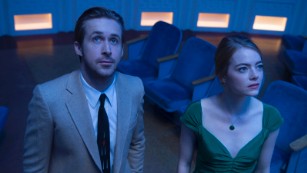 The aforementioned yellow dress has only slight volume to the skirt, for example, whereas a white, flowy number used for the film's bittersweet epilogue is "endless volume," Zophres said.
"There's a progression," she said.
When it came time to dress Gosling, Zophres said she, Chazelle and the actor agreed that jazz musician Sebastian was a guy whose appreciation for the classics would be reflected in his fashion choices.
"I think his character has such a respect for the past and past musicians, my proposal for Damien was, 'I don't think he should ever be in jeans and a t-shirt.' Ever. And never in sneakers," she said. "And he was like, 'Great,' and Ryan loved that idea too."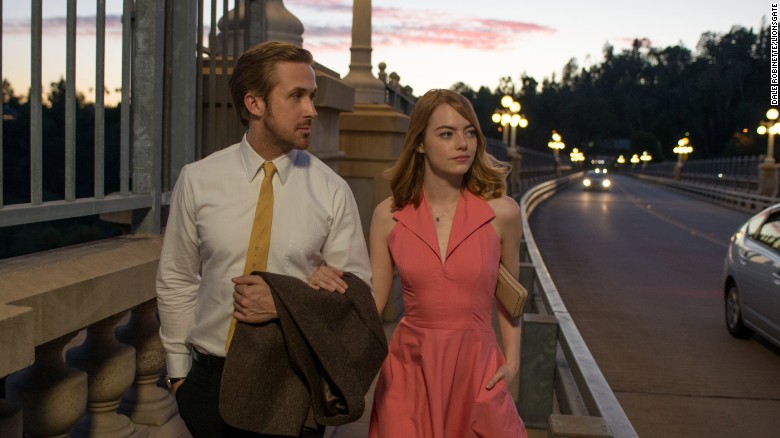 Sebastian (Ryan Gosling) and Mia (Emma Stone) take a stroll in "La La Land"
All the clothing seen in the film were custom made for Stone and Gosling. But Zophres was careful not to make the dresses unrelatable.
"I didn't want it to feel like an average girl like Emma, who wasn't making a ton of money before she was famous, couldn't actually go and buy these dresses," she said. "So even though there's an element of fantasy, I did want them to feel like real dresses."
Zophres previously worked with Gosling and Stone on 2013's crime thriller "Gangster Squad." So she felt like she had an edge when it came to find looks that were right for the movie and the people bringing the characters to life, especially Stone.
"[The clothes] are very classic and somewhat demure," she said. "It was just classic and beautiful and graceful and I think Emma embodies those kinds of things and looks good in that kind of prom dresses liverpool."
"La La Land" is in theaters now.
2016年12月10日
It was the stuff of break-up folklore. Hooked into a glittering bustier with wings affixed to her lithe frame, model Bella Hadid floated down the Victoria's Secret runway last week and right past her ex, The Weeknd, né Abel Tesfaye. Just weeks after their headline-making reported break-up, the former lovers were inches away from one another, the residue of heartbreak still fresh on them. Catching each other's eyes, the emo troubadour and dark beauty exchanged knowing glances under the glittering halls of Paris's Grand Palais, before Hadid lifted her wings, perhaps symbolizing her rising above the situation.
photos:celebrity dresses uk
This meeting of exes seemed rife with tension (you could almost feel The Weeknd's regret) but also had an undeniable grace. Bella, all of 20, handled one of the most unpleasant parts of dating with real maturity. True, the two were contractually obligated to share a space for the length of filming, but days later there was Bella again, name-checking and even thanking her pop-star ex in a heartfelt Instagram post. Appreciative of Tesfaye for lending his voice to the show's star-studded soundtrack, Hadid wrote, "Thank you for being the best and most incredible performer on the planet. You KILLED it, as always."
Accompanying a picture of their fateful run-in and peppered with emoji, the caption was either the perfect troll or a sincere sentiment. We'll go with both. Regardless, it was safe to say that Hadid was winning their breakup by stylishly taking the upper hand.
It's a difficult strategy to follow considering so often heartbreak can leave us bitter, jaded, and out for blood. Wanting to post anonymous missives about a cheating ex's sex game on the Internet or leave all of their belongings strewn on the street outside your apartment building feels rather cathartic, but it's a momentary pleasure. Soon enough you're looking for a deeper sense of closure. Plus, ending a relationship with a violent outburst might leave your ex with a lasting impression—of, say, stalking his phone or throwing blunt objects at his head as he walks out the door. Better to be remembered for all your wonderful, nurturing qualities.
And the sad truth is leaving a relationship with your dignity intact is often the best way of creating a lasting image for him to wallow over. (To be sure, Tesfaye has lost sleep over his brush with a half-naked Hadid). As Hadid's Instagram timeline has shown, the model has been using her timeline to try out and fastidiously document her new single lifestyle. Whether snapping a selfie of her chiseled six-pack or posting a reminder of her continued career success, Hadid appears like a woman who is truly above it all.
So if you're also trying to find closure after a big breakup, why not slip on LNA's Zimmer stretch-jersey sports bra with your Olympia Activewear silo cropped stretch leggings, and hit the gym? A jolt of endorphins will put you in better spirits. Gather your girls up for your first night out and slip on a Ban.do's Strong Female Lead sweatshirt for an added boost of confidence. And for that fateful run-in, make sure to have him wanting more as you gracefully slip past him in your Paco Rabanne chain-mail-panel spaghetti-strap red carpet dresses
. Make sure to say "hello," wish him well, and saunter off on the heels of those killer Balenciaga over-the-knee leather boots. It's a look he won't be able to get over.
2016年12月09日
Bridal Fashion Week has come and gone, but the wedding cheap evening dresses uk trends seen coming down the runways will last, well not a lifetime, but close enough. Off-the-shoulder wedding dresses continued to reign supreme, and deep plunging v-necks were still the sexy talk of the town, but fall 2017 also saw some new wedding dress trends. Ruffles, feathers, and tiered skirts all made an appearance, and sleeves were also a major focus, with flutter sleeve styles and billowing bishop sleeves turning up in some of our favorite collections.
Spring 2017 wedding dresses officially ushered in the age of the off-the-shoulder, and for fall the trend is still going strong. This time shoulders were bared in lace and long sleeved styles, making the trend perfect for winter brides. From ballgowns to a-line silhouettes, modern column dresses and bohemian sheaths, every wedding dress style was seen with its off-the-shoulder version. Reem Acra, Sachin & Babi, Marchesa, Maggie Sottero, newcomer Rime Arodaky, Savannah Miller, and Vera Wang were among the many who were daring brides-to-be to bare their shoulders for the crisp fall of 2017.
We were excited to see cascading ruffles and fully tiered skirts emerge new wedding dress trends. At Sachin & Babi andTheia ruffles were given a romantic boho vibe — perfect to match with flowing beachy waves. Tiered skirts made a big splash in ballgowns at Carolina Herrera, Carol Hannah, Casablanca, Rivini by Rita Vinieris, Vera Wang, and Isabelle Armstrong — to name just a few.
Feather accents adorned shoulders at Mira Zwillinger and Pronovias, capes at Monique Lhuillier, accessories at Alon Livné; White, wrist cuffs and necklines at Rvini by Rita Vinieris.
Fall 2017 is also time for brides to play with their accessories — big, bold earrings and hair accessories were all over the runways. Modern day tiaras fit for a princess were seen on Rime Arodaky and Alon Livné's runways. Florals for fall? Actually groundbreaking! Marchesa, Sachin & Babi, and Naeem Khan all had their brides in bold oversized floral earrings and hair pieces. Listen up brides-to-be, accessories are the big statement to make if you're walking down the aisle next year.
Another unexpected place to make a statement — your sleeves! Long sleeves will continue to trend (you can thank Kate Middleton for that!), but next year's sleeves have a little something extra. Riding the ready-to-wear popularity of bell sleeves, wedding evening dress uk were given the same treatment with pouffy bishop sleeves coming down the runway at Isabella Armstrong and Alyne by Rita Vinieris and more.